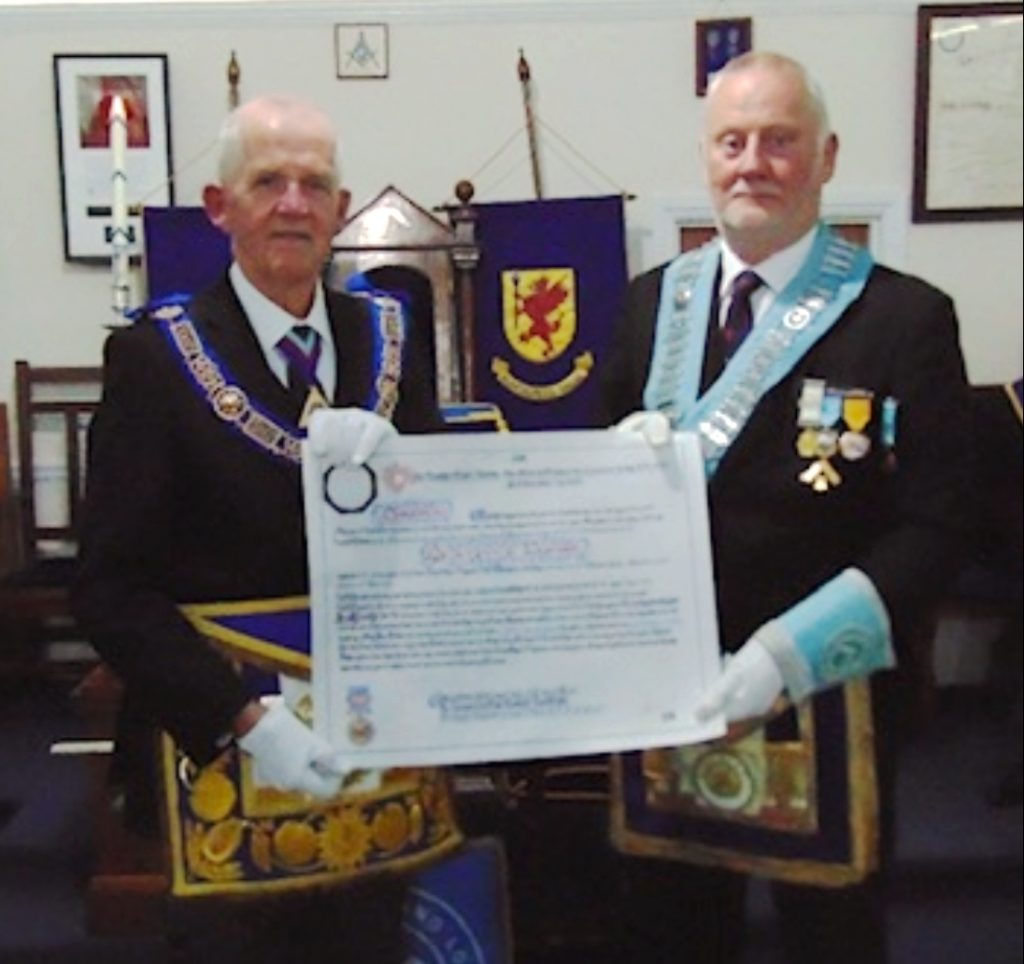 Quantock Lodge Receives Its Centenary Warrant
The Quantock Lodge 4446, who meet in Watchet, celebrated their Centenary on the 12th April 2023. The Lodge was consecrated on 5th April 1923, having been formed by the brethren paying the sum of £1260.00. The Lodge was almost at capacity for the Centenary meeting and the ceremony was performed by the Provincial Grand Master Ray Guthrie with the help and support of many of his Provincial Officers. The Centenary Warrant now has pride of place in the Temple.
The ceremony, festive board and the support received from the Provincial Officers and the many guests, contributed to a memorable evening thoroughly enjoyed by all present. Apart from the unfortunate absence of Mike Greedy, the only downside was Eric Murrell being taken ill. Alex Moran, Quantock Lodge Secretary advises all who attended that Eric is well on the road to recovery following his collapse. Eric thanks all those who sent him their best wishes for a speedy recovery.
Pictured above is Quantock WM John Barnes receiving the Centenary Warrant from Ray Guthrie PGM.
Article by; Alex Moran – 4446 Secretary & Posted by: Ed Richings (ACO) SW
.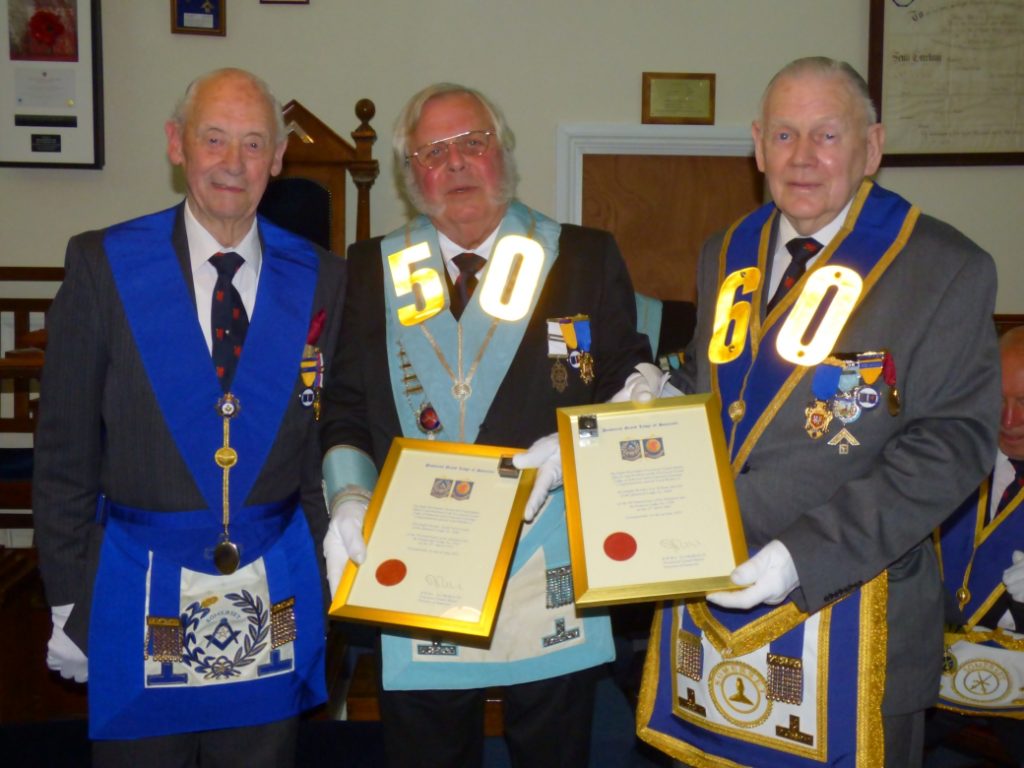 A Unique Celebration for Quantock Lodge
Quantock Lodge No 4446, who meet at Watchet, recently had the opportunity to celebrate a combined 112 years in Freemasonry for two of their lodge members and bring a very fitting end to their Masonic year. The lodge was honoured by the presence of Stanley Hopkins, Past Provincial Grandmaster for Somerset, who presented a 60 years in Freemasonry certificate to Eric Murrell and 50 years in Freemasonry certificate to the Keith Lloyd – the additional collar adornments added to the sense of fun and enjoyment.
This was the third attempt to celebrate with Eric (now actually 62 years a Mason) as previous attempts to mark the occasion were thwarted by the COVID lockdown in March 2020 and then an outbreak of COVID amongst Lodge Officers in April 2022. It was pleasing to see the lodge back to an almost capacity audience with a good number of guests, enjoying an excellent festive board and the renowned Quantock atmosphere.
Sadly, the lodge also bid a fond farewell to Karen Dingle who had decided that for several reasons she had to resign as Quantock Lodge caterer. Karen had been the caterer for many years and had always presented good fare for the many festive boards and lodge social occasions. The WM on behalf of the brethren presented her with a bouquet of flowers, a decanter and a good supply of wine.
A thoroughly enjoyable and memorable evening was had by all present and it certainly raised spirits after the impact of the pandemic.
(L-R) R.W.Bro Stanley Hopkins with W.Bros Keith Lloyd and Eric Murrell.